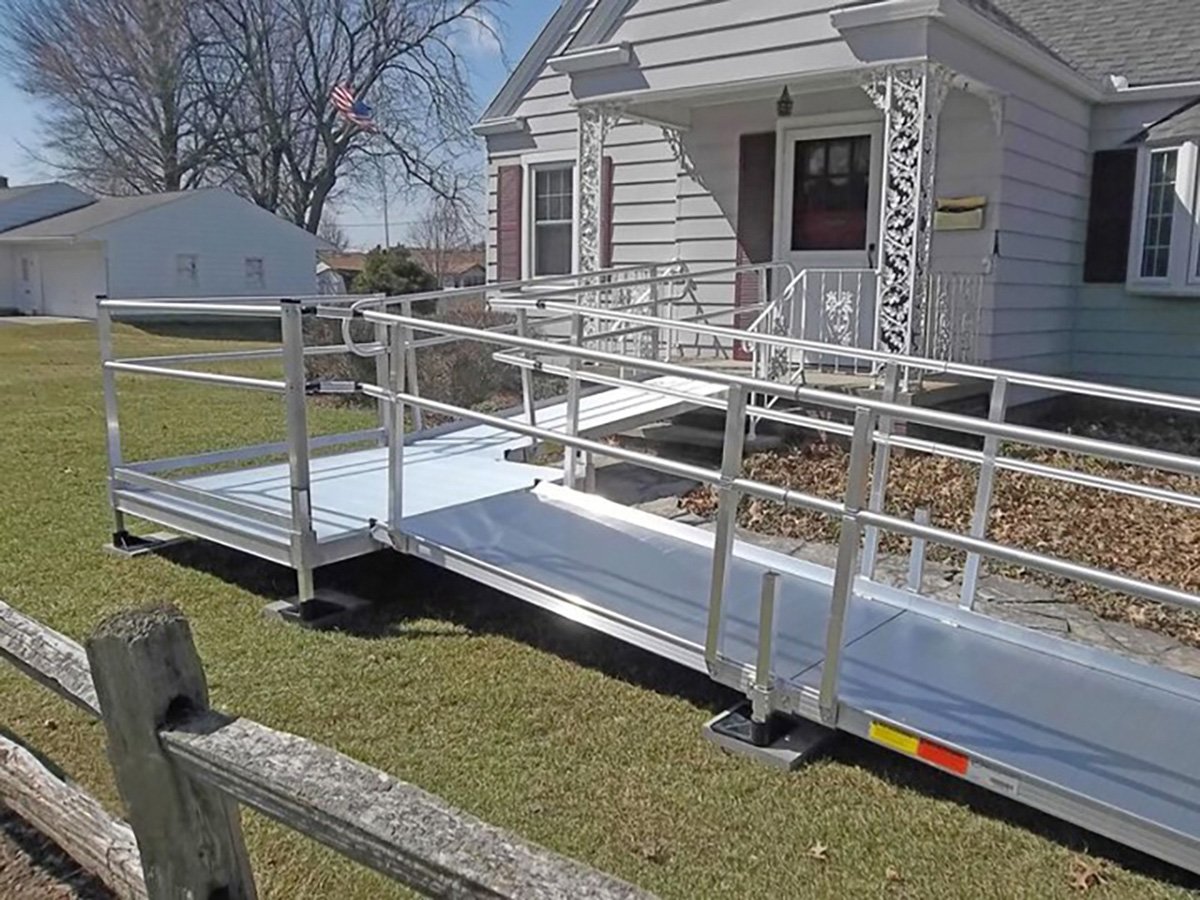 Ramps can be a vital part of your aging-in-place plan. We can help determine the solution that's right for you!
Aluminum or Wooden? Though wood is often considered the traditional material when it comes to mobility ramps, its aluminum counterparts offer many advantages. Unlike wooden ramps, aluminum ramps are weatherproof and will not warp, splinter, or rot. Wooden ramps are also permanent fixtures and require surveying and permitting, while aluminum ramps do not require permits and are an asset you can take with you wherever you move or can be sold separately.
Modular Ramp Systems: Modular ramp systems are great for allowing access to commonly used entry points like a front or side door where higher elevations or uneven terrain command a longer permanent system. Modular systems can include platforms to create a smooth transition from ramp to ramp. Handrails along the length of the system provide safety for all users. EZ Access Ramps, (made in the USA!) have unique connection points on the handrails that create a seamless, continuous line. Weight capacity for modular systems ranges from 850 lbs. to 1000 lbs. to accommodate both you and your mobility equipment.
Portable Ramp Options: Portable ramps are lightweight and easy to carry or load into a car, making them perfect solutions for travel, one-time access, or even in place of a permanent ramp in some instances. Some portable ramps fold in half or thirds while others can be rolled up and stored. Suitcase ramps are hinged in the middle (hence the name) and have a padded carrying handle attached for ease of transport. Threshold ramps are smaller, removable ramp plates or rubberized or metal adjustable wedges that provide a solution for door thresholds. The American-made Roll-A-Ramp is the third and most unique variety of portable ramp as it rolls up like a sleeping bag! It unrolls at your convenience for relocation or storage.
At Mobility Plus Alpharetta, we give free estimates, and provide installation, service and repair. Our ramp suppliers stand behind what is produced in their factories so that we can stand behind what we sell to you!
Read More About EZ Access, Roll-A-Ramp and Harmar Ramp Systems Here: