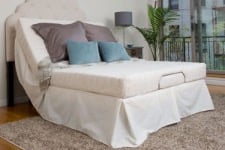 If your doctor has ordered a change to your sleep surface, how do you know which one to choose for your home? Here are some pro-tips so that you will soundly sleep as you recover!
Hi-Lo or Adjustable Base? A Hi-Lo bed raises and lowers to aid in getting out of and into your bed. They can go as low as 7" from the ground to the bottom of the bed frame (or deck as it is often called) and as high as 30" from the ground to the top of the mattress. Think of the bed acting as a lift recliner! This feature also significantly reduces the strain on the caregiver. Hi-Lo beds also have head and foot adjustments, and many have the Trendelenburg and Reverse Trendelenburg positions which increase circulation. When renting or purchasing a bed, choose one that is appropriate for the user's height and weight! If the user is 5'0" a bed that only lowers to 15" may not be low enough for them. A bed that lowers to 7" is a better choice, and limits fall risk. Additionally, two Hi-Lo Twins can be put together to form one Dual King bed.
What about Aesthetics? Just because you or your loved one needs a Hi-Lo fully electric bed at home doesn't mean that you have to sacrifice great design! There are many models now that provide clinical features without the "hospital" look. Mobility Plus Alpharetta is an authorized dealer for Med-Mizer and Transfer Master beds. Both are great options for home recovery! The Med-Mizer Active Care bed splits, rotates, and becomes a lift recliner for ultimate support in the sit-to-stand transition!
Are There Mattress Choices? Yes! We have mattresses for all preferences and therapeutic needs! We can supply air-circulating surfaces that reduce pressure points and skin breakdown. We have standard foam, gel, and memory foam combinations, waterproof vinyl covers and breathable bamboo, and wool blends.
Mobility Plus Alpharetta is here to help! We sell and rent Hi-Lo beds, and are authorized dealers for Invacare, Joerns, Med-Mizer, and Transfer Master. Call us at 404-401-4859 or visit our showroom. We'd love to help you find the best solution for your needs!