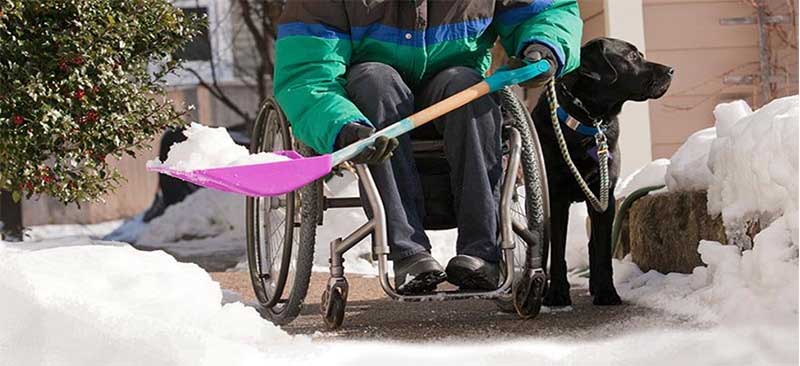 Winter is a tough time of year. The season is full of short days and limited sunlight, as well as unpredictable icy conditions and freezing temperatures. It can be difficult to get around, and even more so for individuals with limited mobility. Make sure you and your mobility team are equipped for the season by using our tips & tricks for navigating the winter weather!
Equipment Maintenance
It's important to make sure that your pathways are clear of hazardous conditions. Always keep ice melt on hand, as well as a plastic shovel and snow broom. This way you can keep your ramp, walkways, sidewalks, and driveway clear in any condition.
You'll also want to keep your scooter, powerchair, wheelchair, or walker free of any salt and grime that it may pick up while outside. We recommend cleaning these items frequently with soap and water to clear the winter residue away.
Make sure you have a caregiver or neighbor available to help you clean these surfaces when inclement weather arises.
Time at Home Preparation
Prepare to spend more time at home during the winter season. Stock up on extra non-perishable supplies in case of a bad storm. Have enough blankets and safe alternative heating options on hand to stay cozy with chilly temperatures.
As always, stay hydrated and continue to get some exercise, even if it is just around the house. Identify & eliminate any fall risks prior to moving around, especially on the stairs and in bathrooms.
Outdoor Preparation
When you must venture out in less-than-ideal conditions, be prepared. Always bundle up and wear a hat & gloves to preserve body heat.
If you will be traveling a lot during the winter, consider adding temporary or semi-permanent mobility devices to your collection for an extra stability measure. It never hurts to have a portable ramp, walker, or cane on hand for times of need.
Caregiver Preparation
If you are a caregiver of an individual with limited mobility, gather extra supplies in your own home and car for emergency use, including extra blankets, winter apparel, and flashlights.
Establish a plan for all winter scenarios, including snowstorms, power outage, and required trips into inclement weather.
Visit Mobility Plus-Pittsburgh to get everything you and your loved ones need to make it through the winter with ease! Call or request an appointment today.