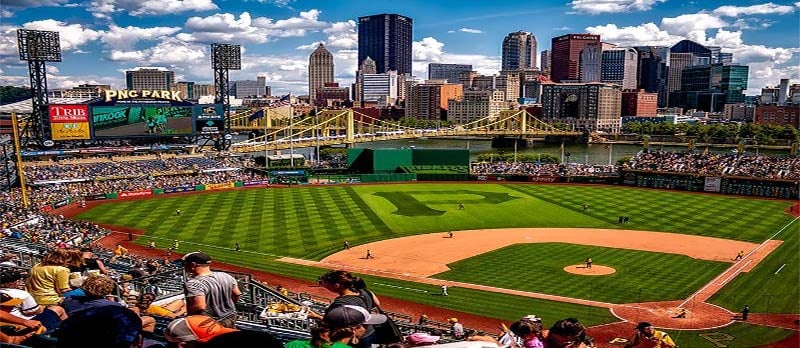 It's the best time of year to get out and about in Pittsburgh, and nothing is more exciting than a day at PNC Park! While it can be daunting to maneuver around a packed stadium, PNC Park makes the experience great for all mobility levels. Here at Mobility Plus Pittsburgh, we've gathered the best tips to help you have a fantastic day with the Pirates. Let's Go Bucs!
Accessible Parking & Arrival
When you arrive at the stadium, there is ample parking available for guests with disabilities. Spots are available in all lots surrounding the park and are available on a first-come, first-serve basis. Additionally, the park has drop-off zones with curb cut outs. These zones are available on game days along Mazeroski Way and West General Robinson Street.
Getting Around the Park
Once you've entered the stadium, wheelchairs are available for pick up at the Main Guest Relations office. All wheelchairs are free of charge but require a valid credit card or Driver's License to reserve. You may also bring your own wheelchair into the park if easier.
Elevators are located throughout the entire ballpark. Currently, there are only 4 guests allowed per elevator due to social distancing guidelines. Reach out to any team member to find the elevator nearest to you!
Seating
PNC Park is incredibly mobility friendly and has accessible seating options across the stadium, with more than 45 options at all price points. When you arrive, a team member will be on hand to make sure your seats are set up correctly & as comfortable as possible. When buying tickets, be on the lookout for the mobility friendly seats, marked with the handicap icon.
Concessions & Bathrooms
All concession stands & bathrooms are accessible to wheelchairs. There are over 10 sections with family restrooms for easy accessibility. Guests are encouraged to reach out to team members to find the locations closest to them.
Other Accommodations
Service animals are always welcome inside the park. The Pirates have sensory and quiet rooms for guests who may need to get away from the event for a few minutes. Sensory bags filled with fidget toys, noise cancelling headphones, weighted lap pads, and other items are also available at the Main Guest Relations office. Don't hesitate to contact a team member and they can put you in touch with the perfect resources for your needs.
Accessories
Before you go to the game, make sure you have everything you need for the day from Mobility Plus Pittsburgh! We have walkers and canes for getting around the stadium, as well as travel packs, wheelchair totes, and seat cushions.
PNC Park is the perfect place to enjoy the sunshine and have a fantastic day with family & friends. If you go to a game, make sure to tag us in your pictures on Facebook. We can't wait to hear all about it!