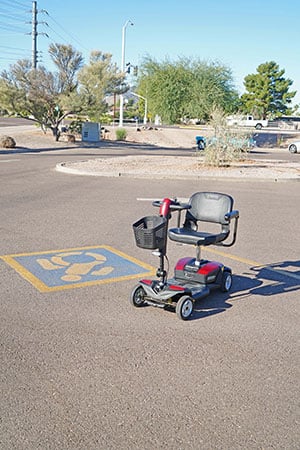 When you're out running errands, shopping or going to doctor's appointments, your mobility equipment becomes your home away from home.
A wide range of accessories are available to add comfort, convenience and safety to your mobility scooter or power chair.
Verify the Safety and Compatibility of Your Accessories
Here are a few tips to ensure the accessories are compatible and safe for your mobility device:
Hitch Compatibility

- Most scooters and some power chairs have a hitch on the back, that allows the user to add a wide array of accessories. Some of these hitch designs are specific to the brand, so accessories are not a one-size-fits-all. By purchasing accessories in-person instead of online, you can verify a proper fit to the hitch on your specific mobility equipment.

Stick with Name Brands

- When shopping for accessories, choose the manufacturer's accessories, which are carefully engineered for compatibility with your scooter or power chair. If you're looking for an accessory that the manufacturer's brand doesn't carry, use caution when purchasing from a secondary source. Some accessories can void scooter warranties if they were not made for that specific product. For example, sun covers can be hazardous on some scooters at certain speeds.

Check the Weight Capacity

- Each scooter has a weight capacity, so if items are placed in baskets or in holders, it's important to account for this additional weight, as well as the weight of the driver.

Secure Loose Items

- When your scooter or power chair is in motion, any personal items which are not secured or placed in a zipped up or enclosed compartment can easily be lost. Securing personal items is especially important when transporting your mobility equipment while on an auto lift on the back of a vehicle while driving at high speeds. Check baskets and other storage accessories for loose items and stow them before transporting your scooter or power chair.

Safety Flag Requirements

- Depending on the state laws in your area, you may be required to have a safety flag on your mobility device when driving in public places.
Popular Accessories for Your Mobility Equipment
Here are some of the most commonly used accessories for scooters and power chairs: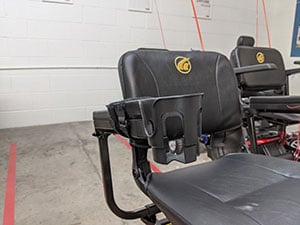 Cup holder

- Attached to your armrest, the holder will keep your beverage handy, while freeing up your hands to drive your mobility equipment.

Bumper kit

- To protect the scooter from impacts, the bumper kit includes a front bumper, side rails and large rear bumper. For added safety, consider adding a rearview mirror and lap belt.

Scooter Baskets and Liners

- For easy access to frequently used items, add a scooter basket to the front or rear of your mobility equipment. Basket liners feature an adjustable drawstring, so they can accommodate most baskets. Liners prevent smaller items from falling through the holes in the basket. They also include a zippered pocket within the basket to keep your personal items secure and out of sight. Two expandable pouches are available for a cell phone or beverage.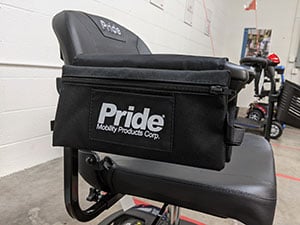 USB Charger

- Ensure that your cell phone or tablet is always fully charged and ready for use by installing a handy USB charger.

Armrest bags

- These totes come in small and large sizes. A cellphone holder can also be added to the front of your scooter or power chair.

Charging Dock

- The battery dock makes it easy to charge your mobility device inside your home, stored in your vehicle or in the garage.

Backpack

- With this spacious backpack, you can store your favorite book, beverage and snack with room to spare. It securely attaches to the back of the seat using a mesh sleeve. It also includes privacy compartments for personal items, including an expandable water bottle holder. The backpack is very versatile and can be removed from the chair and used as a portable backpack using the carrying handle. If you're out in the rain or snow, your belongings will stay dry when stored in the zipped main compartment of this water-resistant nylon pack.

Oxygen Tank Holder

- The holder accommodates C, D and E-sized oxygen tanks and fits onto the mounting bracket on the back of your scooter or power chair.

Walker, Tube Cane or Crutch Holder

- Made of sturdy steel, this holder fits on the universal mounting bracket on the back of your mobility equipment, so you can easily transport your walker, cane or crutch.

Weather Cover

- This one-piece durable vinyl cover protects your mobility device from the outdoor elements, so the electronics are shielded from wet conditions and your equipment stays clean and dry.

Legrests and Seat Cushions

- To enhance your comfort when sitting for extended periods, add swing-away leg rests, elevating leg rests or heel loops. Seat cushions come in a variety of styles and thickness.

Joystick Options

- For individuals with fine motor skill issues, several different joystick options are available. You can also add a swing-away joystick to make it easier to get in and out of your mobility device.

Personalize Your Equipment

- Consider adding patches and stickers that express your personality. You can also accentuate your mobility device with your favorite color by purchasing alternative color shrouds. They allow you to change the color of your console and wheel covers to match the season or your mood.
Visit Your Mobility Plus Store for top Accessories
Instead of purchasing accessories online, save time by visiting our showroom, so you can eliminate the hassle of having to return incompatible items. Our Mobility Plus consultants will help you select accessories which best fit your specific brand and model.
Accessories help personalize your power chair or scooter and maximize your safety and comfort. As you venture out into the community, these convenient accessories allow you to take your essential belongings with you and store them conveniently at your fingertips. They also help you explore the world in comfort and style.