Choosing between a power chair and mobility scooter can be confusing, especially with so many different configurations, sizes and styles on the market. However, each one offers distinct advantages and disadvantages. The decision should be based on space limitations, how long you plan to use the device and the user's body weight, mobility capabilities and hand dexterity.
Both mobility scooters and power chairs increase self-reliance, so users can perform daily activities of living with greater ease and interact with the world around them.
A mobility scooter typically has three or four wheels and uses handles in front of the driver similar to a bicycle.
A power chair, also known as an electric wheelchair, is designed with four to six wheels and generally uses a joystick for operation.
Narrowing Down Your Choices
Here are four critical questions to ask before investing in mobility equipment.
1. Where Will They Be Used?
Power chairs have a much tighter turning radius, making them more compact and maneuverable in homes and in confined areas such as hallways, elevators and bathrooms.
Because scooters have a larger turning radius, they are best used in open spaces. They are the ideal choice when shopping at the grocery store or mall or when traveling longer distances in public places. In fact, some stores offer free use of scooters while shopping.
Both scooters and power chairs come in configurations that can handle rugged, uneven terrain and are easy to transport. However, mobility scooters generally perform better on steep inclines, have higher ground clearance and faster speeds.
2. What Type of Mobility Limitations Do You Have?
A mobility scooter requires the use of two hands to operate. The user must have good manual dexterity and sufficient upper body strength to sit upright without support. The handlebars/tiller controls of a mobility scooter are similar to the steering on a bicycle, making it easy to operate.
Some individuals may be reluctant to use a power chair because they are unfamiliar with how to operate a joystick. However, some power chair brands allow the user to substitute different accessories for the joystick.
If you're looking for more customized features, power chairs may be a better choice. The seat, back and side cushions, armrests, leg rests and power options can be tailored to the individual. Hand controls are conveniently located on the armrests, so users can use their fingertips to operate them without having to extend their arms or reach forward.
For those with more severe limitations, power chairs can be customized, so the user can control them using their eyes, mouth or foot movements.
3. Can You Stand for Short Periods?
If you can stand up and walk a short distance, consider using a mobility scooter. People with minor mobility issues tend to prefer scooters over power chairs because they offer more independence.
For individuals who are confined to a seated position, power chairs make it easier to engage with the world around them. Because they don't have steering handles in front of them, users can easily pull up to the dining room table, sink, desk or counter without having to transfer to another seat. They can also pull up very close to a bed or shower.
Specialized "elevating" power chairs allow users to raise themselves up with a push of a button, so they can get quick access to shelving or cabinetry. This feature also enables them to elevate their seat, so they are eye level with friends and family to promote more social engagement.
Some mobility scooters feature a swivel seat to help the user access a desk, table or bed.
4. Is the Mobility Equipment for Short or Long-Term Use?
If you need full-time, longterm assistance, a power chair offers extra options and accessories to ensure your comfort from morning to night. You can adjust the seat and recline the headrest and back of the chair to relax more easily or take a nap. More support options can also be added to a power chair for individuals who becomes less mobile over time.
If you have a short-term disability, or you will only need to be seated for a small portion of the day, a scooter may be a better option.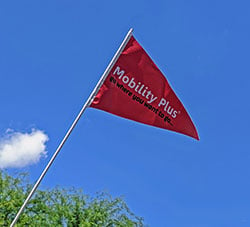 Test Drive or Rent Before You Buy
Still not sure whether a scooter or power chair is right for you? Visit your local Mobility Plus store for a test drive or ask about renting each of these types of equipment, so you can try them out firsthand before making the investment.
With the wide range of models available today, you can find mobility scooters and power chairs with all-terrain capability and long-life rechargeable batteries. While both offer portable models, users tend to prefer a folding power chair for travel, which is more compact and can be stowed in tight spaces more easily.
Whether you choose a scooter or power chair, you will gain more freedom to move through your day with minimal assistance and more peace of mind.