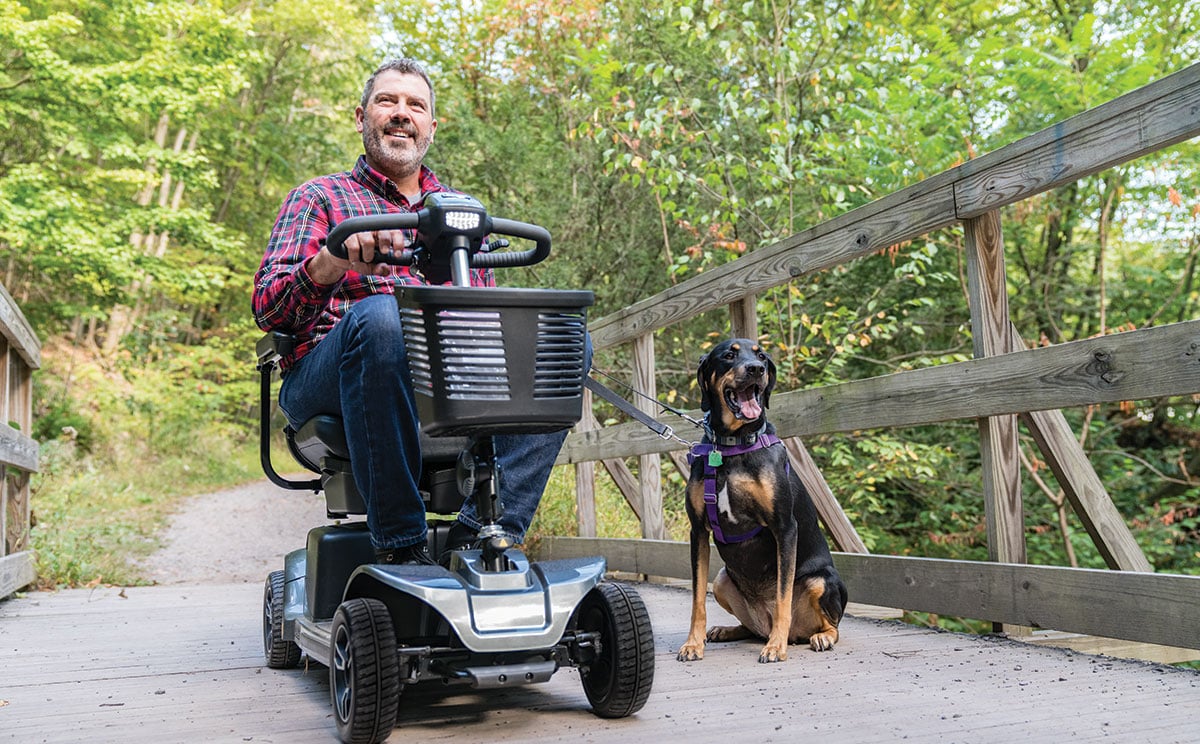 Maintaining independence and freedom of movement is a top priority for individuals facing mobility challenges. A mobility scooter can provide a reliable and empowering solution, but selecting the right one can be overwhelming due to the multitude of options available in the market. In this comprehensive guide, Mobility Plus Shelby Township, located at 50753 Mound Rd., Shelby Twp, MI 48317, will walk you through the essential factors to consider when choosing a mobility scooter. Whether you're a first-time buyer or seeking an upgrade, this guide aims to empower you with knowledge and insights to make an informed decision that meets your specific needs and enhances your mobility and quality of life.
Understanding Mobility Scooters:
Mobility scooters are battery-operated personal vehicles designed to assist individuals with limited mobility in performing daily activities and moving around with ease. They come in various sizes, shapes, and configurations, catering to different user needs. When choosing a mobility scooter, it's essential to understand the different types available and how they can benefit you.
Assessing Your Mobility Needs:
To choose the correct mobility scooter, it is essential to assess your specific mobility needs. Consider factors such as the terrain you'll be navigating, the distance you'll be traveling, and any specific challenges you may face. Additionally, evaluate your physical abilities, including balance, strength, and dexterity. This evaluation will help you determine the features and specifications you require in a mobility scooter. Mobility Plus Shelby Township offers personalized consultations to assist you in identifying your unique mobility needs.
Determining the Type of Mobility Scooter:
Mobility scooters can be categorized into different types based on their intended use. These include travel scooters, standard scooters, and heavy-duty scooters. Travel scooters are lightweight and easily portable, making them ideal for individuals who need to transport their scooter frequently. Standard scooters offer a balance between portability and performance, providing a comfortable ride for everyday use. Heavy-duty scooters are designed with enhanced stability and weight capacity, catering to individuals with larger body frames or who require additional support.
Considering the Weight Capacity:
The weight capacity of the mobility scooter is an essential factor to consider. Ensure that the scooter you choose can comfortably accommodate your body weight without compromising its performance and safety. It's important to factor in any potential weight fluctuations or the need to carry additional items while using the scooter. Mobility Plus Shelby Township offers a range of scooters with varying weight capacities to suit different user requirements.
Evaluating Battery Life and Range:
Battery life and range are critical considerations to ensure your mobility scooter can meet your daily needs. Longer battery life allows for extended usage before recharging, while a greater range enables you to travel farther distances without running out of power. Consider your daily routine and how frequently and far you'll need to travel to select an appropriate battery and range for your needs. Mobility Plus Shelby Township offers scooters with different battery capacities to cater to varying usage requirements.
Exploring Maneuverability and Turning Radius:
Maneuverability and turning radius play a significant role in the usability of a mobility scooter. If you plan to use your scooter in tight spaces or crowded areas, a smaller turning radius will allow you to navigate through narrow hallways, doorways, and busy streets with ease. Consider the dimensions of the scooter, including its overall length, width, and turning radius, to ensure it fits comfortably in your intended environment. Mobility Plus Shelby Township's expert staff can guide you in selecting a scooter with optimal maneuverability for your specific needs.
Comfort and Seating Options:
Comfort is a key consideration for an enjoyable and sustainable mobility experience. The scooter's seat should provide adequate padding and support for long rides. Look for adjustable seating options to customize the scooter to your specific comfort requirements. Additionally, consider the availability of options for legroom adjustments or additional seating accessories to enhance your overall comfort. Mobility Plus Shelby Township offers scooters with ergonomic designs and customizable seating options for optimal comfort.
Assessing Storage and Portability:
If you frequently travel or require a mobility scooter for various locations, portability and storage become essential factors. Travel scooters are generally more compact and lightweight, designed for easy disassembly and transport. Consider the scooter's weight, foldability, and the ease of disassembling and reassembling when selecting a scooter that fits your storage and transportation needs. Mobility Plus Shelby Township offers a range of travel scooters that are designed for easy portability without compromising on performance.
Safety Features and Accessories:
Safety should be a top priority when choosing a mobility scooter. Look for features such as anti-tip wheels, rearview mirrors, headlights, taillights, and turn signals to enhance visibility and maneuver safely. Additionally, consider the availability of accessories like baskets, cup holders, or weather protection to further improve your overall mobility experience. Mobility Plus Shelby Township offers a wide selection of scooters with advanced safety features and compatible accessories to ensure your safety and convenience.
Trying Before Buying:
To ensure the mobility scooter is the right fit for you, it's highly recommended to test-drive different models. Visit a reputable mobility store like Mobility Plus Shelby Township and request a demonstration or trial run. Trying out different scooters will give you a better understanding of how they handle, their comfort level, and their suitability for your specific needs. Mobility Plus Shelby Township's knowledgeable staff will assist you in selecting the most suitable scooter through a personalized consultation and test drive.
Considering Long-Term Support and Warranty:
When investing in a mobility scooter, it's essential to consider long-term support and warranty options. Look for reputable dealers like Mobility Plus Shelby Township that offer reliable after-sales service, maintenance support, and extended warranties. This ensures that your investment remains protected and that you have access to assistance should any issues arise. Mobility Plus Shelby Township is committed to providing excellent customer service and ongoing support to ensure your mobility scooter continues to meet your needs.
Conclusion:
Choosing the correct mobility scooter requires careful consideration of various factors. By understanding your mobility needs, evaluating different features and specifications, and trying out different models, you can make an informed decision that meets your requirements and enhances your independence. Mobility Plus Shelby Township is dedicated to assisting you in finding the perfect mobility scooter that suits your lifestyle and enables you to live life to the fullest. With the right mobility scooter, you can regain your freedom of movement and enjoy a more active and fulfilling life. Visit Mobility Plus Shelby Township at 50753 Mound Rd., Shelby Twp, MI 48317, or explore their website Mobility Plus Shelby Township to discover a wide range of mobility scooters and expert guidance tailored to your needs.