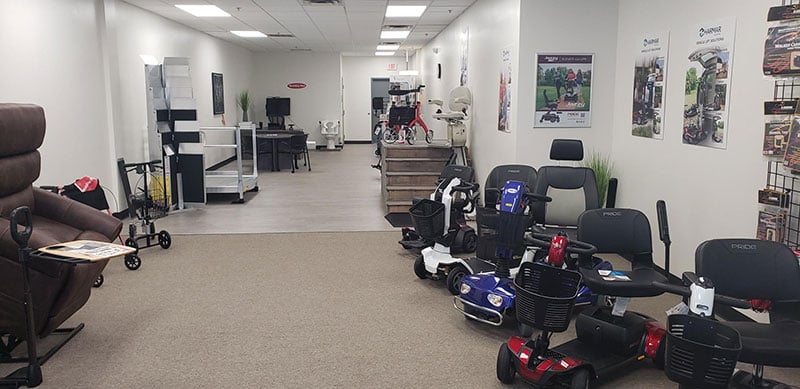 Mobility Plus of Tri-County is the Cincinnati area's newest mobility equipment company, and owner Shawn Zech has a clear vision for setting his business apart.
"It's really all about customer service and caring," says Shawn. "At the end of the day it's about helping people." Customers walking into his Springdale showroom will immediately be welcomed and given the chance to ask questions. He and his team will take the time to listen, learn and help.
"We want to get to know our customers so we can understand what's best to offer them."
Shawn was born in raised in the Cincinnati area and has lived there all his life — so he knows how the region's hilly terrain can sometimes complicate the process of getting around. He came to Mobility Plus after a career in the dentistry field, where he started in sales and service and worked his way up to management and leadership positions.
Shawn says his soup-to-nuts experience in dentistry prepared him well for helping his new customers. At Mobility Plus, his work encompasses every step from assessing needs to finding the right solution and all the way through installation.
"I will deliver it, install it, and show you how to use it," Shawn says of the products he sells. He's also available if repair and maintenance issues that arise. He is a certified home safety specialist and a licensed a Home Medical Equipment service provider.
In describing his approach to customer service, Shawn says, "I am a believer in good, better, best."
"So, let's say you're having an issue getting up and down. A lift chair would be my number one recommendation, but if you can't afford that I have lift poles that are less expensive, and they can help you get up and out of a couch or a chair. And if that's still too expensive, I have an even more affordable option."
Like so many others, Shawn has observed firsthand the challenges families encounter as they adjust to health and aging issues. "There is a real need," he says. "I hope I can help people as they look for ways to adapt their homes or help their loved ones."
It's a mission that matches an important lesson he has learned over the years. "In my life, the more I've given without any expectation of receiving anything, the more I get," Shawn says.
"In some ways this is a way to give back. I'm excited to be here."
Meet Shawn and his team 3-8 p.m. Thursday, Dec. 2, as they celebrate their arrival in the Tri-County area with an open house at the Mobility Plus of Tri-County showroom, 11435 Princeton Pike, Springdale. You can meet the Shawn as well as several manufacturer representatives, enjoy refreshments, browse the showroom and ask any questions you have.
Learn more at the Mobility Plus of Tri-County website or call (513) 469-4373.