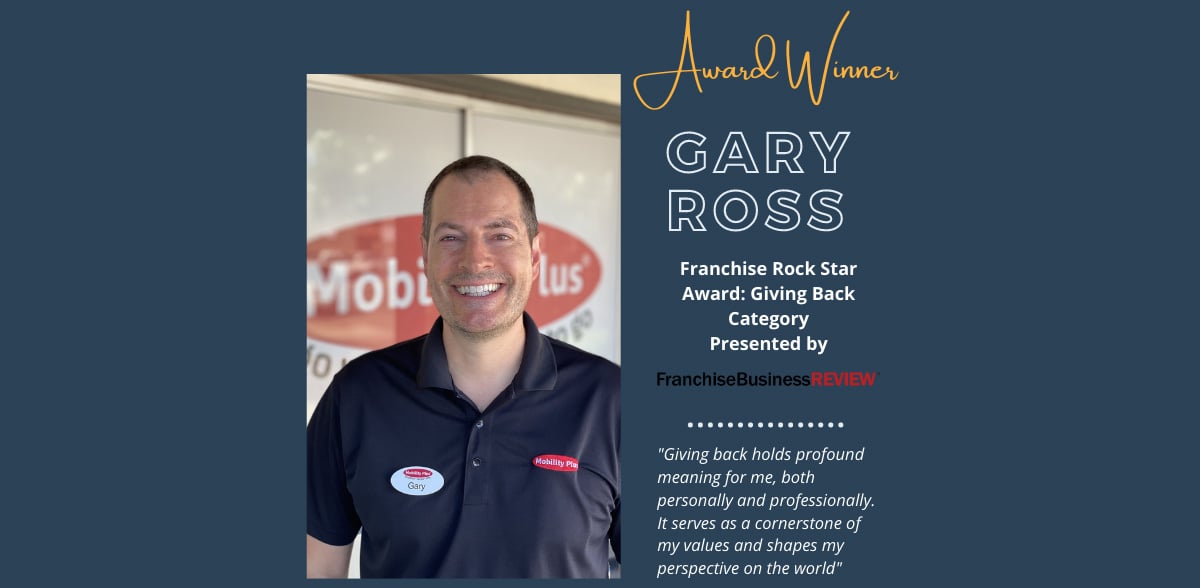 Mobility Plus Franchise Owner and Mobility Consultant Gary Ross receives the

2023 Franchisee Rock Star Award

under the

Giving Back

category by

FranchiseBusiness REVIEW!
"Giving back holds profound meaning for me, both personally and professionally. It serves as a cornerstone of my values and shapes my perspective on the world. The significance of giving back reflects a genuine desire to make a positive impact in the lives of others." stated Gary during an interview.
Since joining the Mobility Plus network in 2021, fellow franchisees have described Gary Ross as always helpful with details of his operations and business practices, a source of information for the franchisee network, and always willing to help others.
"Ultimately, giving back is not merely a standalone activity or a momentary act of kindness. It is an integral part of my life's purpose and a driving force behind my business endeavors." explained Gary.
To read the full interview with Gary Ross on the importance of giving back and how it affects his personal life and business. Visit: MobilityPlus.com/Resources/Franchise-Rock-Star-Award- Winner-2023
This year, Franchise Business Review received over 250 nominations from franchisors in eight different categories–including Top Performers, Multi-Unit Owners, Veteran-Owned, Women- Owned, Family-Owned, Freshmen, Millennials, and Giving Back. Visit FranchiseBusinessReview.com/2023-Franchise-Rock-Stars to learn more about the 2023 FranchiseBusiness REVIEW Rock Star winners.
For information on Mobility Plus, franchising as a Veteran, Second Business, Career Change, and Community Impact experiences, visit: MobilityPlus.com/VideoExperiences