Falls are the No. 1 cause of accidental death and injuries in seniors over the age of 65, according to the Centers for Disease Control and Prevention

Older adults can significantly reduce their risk of falling by taking some basic precautions and using fall prevention products:
Grab Bars

- Grab bars offer support when stepping in and out of a tub or shower. Use grab bars with high-contrast colors for better visibility. Handrails are useful when using the stairs in your home or entryways.

Bathing Aids

- Wet, slippery bathroom floors can increase your chance of falling. Waterproof bath benches and shower chairs allow you to sit while bathing. Using a handheld adjustable shower head makes bathing easier. If you're soaking in a tub, consider using a bath lift to get in and out of low tubs.

Toilet Aids

- To help you sit down and stand up with ease, replace your current toilet seat with a raised seat. You can also add a frame with armrests around your toilet that you can grip.

For extra assistance, install a Tilt® Toilet Incline Lift, which combines the functionality of a lift chair and a heavy-duty commode. It features a lightweight, durable design and a convenient handheld control to provide independence and added safety in the bathroom.

Walking Aids

- If you're unsteady on your feet, use the support of a walker with wheels. A rollator is a popular type of walker that features hand brakes and a seat for when the user becomes tired.

Newly designed upright walkers are now available. Not only do they promote better posture, but they also offer greater stability by allowing the user to walk inside the walker instead of behind it.

Motorized Mobility Aids

- If you're looking for more support and convenience, consider using a powered wheelchair or scooter. Our mobility specialists will ensure they are custom-fit to your needs.

Non-Slip Products

- When walking around your home, wear shoes with non-slip rubber soles or socks with non-slip grippers. - Add abrasive strips to your stairs. - Add anti-slip strips to bathtub and shower floors. - Rugs are a common tripping hazard. If possible, remove all throw rugs from your home. Secure large area rugs with non-slip backing or double-sided tape.
Shop Locally For The Most Reliable Equipment
Although the Internet is a convenient place to shop for many household items, buying safety products online that are poorly made or unreliable can cause serious injury.
Evaluating the quality and durability of fall prevention products can be difficult when looking at a one-dimensional photo from an online seller.
At Mobility Plus, we listen attentively to your needs and can recommend a combination of fall prevention products that work as a system. You can also visit our store and hand-select the items you need. We will ensure that the products are designed for your body weight and intended use.
Take Action And Prevent Falls Before They Happen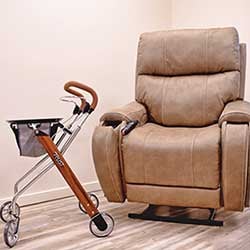 Every 11 seconds an older adult ends up in the emergency room because of a fall — that's 2.8 million injuries and more than 27,000 deaths annually.
You can avoid being a statistic by taking steps to make your environment safer and more secure. Keep the walkways in your home well-lit and clutter-free, and purchase and install the proper fall prevention products to minimize your risk of falling.