Lift chairs help you get out of a chair and sit back down with the simple push of a button. They are designed for people with mobility, strength and balance issues, especially the elderly, disabled or those recovering from surgery or an injury.
When choosing a lift chair, also known as a power chair recliner, consider the chair size, reclining position options, upholstery and upgraded features available.
How will Your Chair be Used?
Although lift chairs are considered medical equipment, they can be customized to complement your home decor and create a cozy, warm ambiance. Just as with a standard recliner, they come in a variety of upholsteries, colors and styles.
If the user suffers from incontinence or plans to eat meals in the chair, a stain-resistant upholstery is recommended. Instead of cloth, choose fabrics such as imitation leather, microfiber or linen that clean up more easily. If slipping out of the chair is an issue, avoid faux leather.
Also consider the climate where you live when selecting the upholstery. In warm climates, you may sweat more in leather and vinyl chairs because they retain the heat more than cloth or synthetic leather.
If your pet usually cuddles up with you in your chair, purchase one with a wider, more spacious seat, so you can sit together more comfortably.
Check Dimensions Before You Buy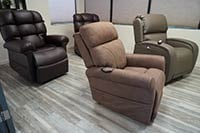 Before you make your purchase, measure the area available for your chair. Because recliners slide out and backward, 1 1/2 to 2 feet of space is usually needed between the wall and the chair.
Most lift chairs are available in petite, medium, large and bariatric sizes. Standard lift chairs have a maximum weight limit of about 300 pounds.
Bariatric models are available with extra-wide seats and a weight limit of up to 600 pounds.
In addition to a person's height and weight, it's helpful to measure from the bottom of the user's foot to the back of the knee, tailbone to knee, hips at the widest part, and tailbone to the top of the head.
If you've been using a traditional recliner that feels comfortable to you, provide the chair measurements to our Mobility Plus specialists and we will find a comparable-sized lift chair for you.
Use the checklist below for your convenience:
Measurement checklist:
Floor to seat (to make sure feet touch the floor) ........
Seat width .......
Seath depth .......
Top of backrest to the bottom of the seat back .......
Distance from wall .......
Choose Lift Chair Positioning Type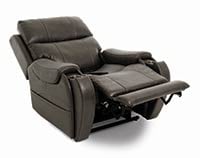 When choosing your lift chair, consider how much time you plan on spending in the chair. Will you be sitting down for just a few hours or do you plan to spend most of your day in it or even sleep in the chair all night?
Lift chair types include two-position, three-position and infinite-position models. The type you choose will determine how far you can recline in your seat and your level of comfort.
Two-position Lift Chairs


Two-position lift chairs recline to about a 45-degree position. They have one motor, which operates both the headrest and footrest at the same time using one control. In order to recline, the leg rest must be extended. They are suitable for watching TV and reading for a couple hours, but are not a good choice for long periods of sitting.

Three-Position Lift Chairs


Three-position chairs fully recline similar to a standard recliner. Like the two-position chairs, they have only one motor so the headrest and footrest move simultaneously. Because they recline further back, they are more comfortable for napping than a two-position lift chair.
Two- and three-position chair types offer more adjustments than their name implies. The user can adjust the position of the chair at any point from fully reclined to completely upright.

Infinite-Position Lift Chairs


An infinite-position chair offers the most versatility of all three chair types. It reclines flat like a bed, and since it has two motors, you can control the back of the chair and footrest separately. Unlike the two- and three-position chairs, the infinite-position chair allows the user to sit upright with the leg rest extended.
Infinite-position chairs are the best choice for people who spend long periods of time in a chair and plan on sleeping in it. Some models can recline far enough back, so the feet and ankles are elevated above the heart, which can reduce swelling in the lower body.
Added Creature Comforts
Here are a few of the features available to enhance the user's comfort and convenience:
Heat functions and vibrating massage to improve blood circulation to the head, back, lumbar area and legs
USB charging ports
Storage compartments and side pockets for the TV remote or reading materials
Cup holders and foldable trays
Removable armrests for better access for wheelchair users
Head or lumbar pillows
An emergency battery backup offers peace of mind if you lose power and can't get out of the chair without assistance.
Lift Chairs Reduce Stress on Users and Caregivers
With the simple push of a button, lift chairs allow the user to be raised into a standing position or lowered into the seat without strain on knee joints, hips, wrists, elbows or shoulders.
Lift chairs also provide the comfort and beauty of a standard recliner with greater durability. Because the chair gently lifts users out of the seat and onto their feet, they don't have to rely on others for this everyday task. This also decreases the physical strain and stress on caregivers.
Lift chairs are priced competitively and in some cases may be less expensive than traditional recliners. Most importantly, they offer users help in safely getting in and out of a chair, so they can pursue their daily activities with more freedom and independence.
To purchase a lift chair that is perfectly tailored to your body size and lifestyle, contact your local Mobility Plus store or visit www.mobilityplus.com. Some stores also offer rentals for short-term use such as recovering from a surgery or when a relative visits with a mobility issue.