Just as with cars, mobility scooters come in all different sizes and prices to match your lifestyle and budget. Learning about the different models available and test driving the scooters are a critical part of the buying process.
Mobility Plus specialists have the expertise to guide you smoothly through the entire selection process and ensure that the scooter is customized to your specific needs.
Maneuverability, travel distance, portability, and your environment are all key factors to consider. A wide range of scooters are available — from low-cost, compact models to fully-loaded luxury or heavy-duty models.
Scooters Tailored to the User's Size and Capabilities
When it comes to scooters, one size does not fit all. The scooter should be tailored to match the customer's specific body size based on the following: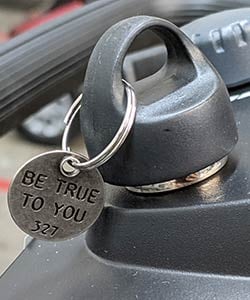 Height

Weight

Body proportion

Base size for foot comfort

Seat height

Tiller adjustment/position

Seat modifications
Also take into consideration any physical limitations or medical conditions that might affect the user's ability to safely operate the scooter, such as their balance, hand and leg strength and dexterity.
Learning About Different Scooter Types
One of the first questions to ask is, how and where will the scooter primarily be used?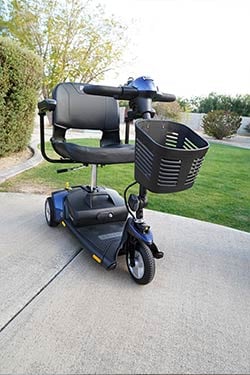 The three main types of scooters are:
Three-wheeled scooters

Four-wheeled scooters

Travel scooters
Each scooter type offers advantages and disadvantages depending on how it will be used.
Three-Wheeled Scooters for Maneuverability and Flat Surfaces
Three-wheel scooters are generally lightweight and very maneuverable with one wheel in the front and two in the back. They are used indoors, as well as outdoors on smooth paved surfaces.
The adjustable steering column, also known as a tiller, is usually smaller than four-wheeled models and offers a tighter turning radius, which makes it easier to maneuver around obstacles in a home or shopping mall.
Many of the models have solid rubber tires that are puncture-proof. A three-wheeled model also tends to have more foot room than its four-wheel counterpart.
Four-Wheeled Scooters for Stability and Versatility
Four-wheel scooters are set up like a car, with two drive wheels at the rear and two wheels for steering at the front. Scooters with four wheels are generally better suited for outdoor use than three-wheeled models. They tend to be heavier with a wider platform where the rider sits, known as the deck. With the bigger size comes a wider turning radius, making it less maneuverable than a three-wheeled scooter.
Due to the larger size and weight, this type of scooter offers more stability for people with balance issues, especially when transferring on and off the scooter. Stability is particularly important when traveling uphill or on ramps.
Larger models feature air-filled pneumatic tires for a smoother ride. Tires will need to be checked for proper inflation and air leaks before each use.
Deluxe Features for Larger Models
Full-size models offer added comfort with high chair backs, reclining or elevating seats and a higher weight capacity of up to 400 pounds. They typically have a bigger battery, can go longer distances and require a car lift to transport them.
Large scooters usually have a bigger, thicker tiller, which can make the scooter more difficult to turn. An upgraded feature is to position the tiller adjustment higher on the steering column, so it's easier to reach without the user having to bend down.
Heavy-Duty Scooters for Extra Power and Rough Terrain
If you plan to spend a lot of time outdoors traveling on rugged terrain or want extra durability, consider purchasing a heavy-duty scooter. They have bigger tires, a wider base, higher ground clearance, and better suspension for uneven terrain. Like full-size models, they have a higher weight capacity and offer larger seats with more legroom.
Travel Scooters for Portability
Travel scooters are designed for people who travel often. They are also sometimes referred to as boot or trunk scooters and come in three-wheel and four-wheel configurations. Travel scooters tend to be lightweight, more compact in size with a smaller turning radius.
They can be easily disassembled or folded up for smooth and efficient storage in most car trunks. Many of them include safety features, such as lithium batteries, to allow them to be safely transported on trains, planes and other public transportation.
The seats are typically smaller and don't swivel like other models. They also have a lower maximum weight capacity than full-size scooters.
Travel scooters are especially useful at shopping malls, amusement parks, on cruise ships or anytime you're running errands and traveling on a smooth surface.
Class 2 Scooters for Indoor and Outdoor Use
Mobility equipment is sometimes divided into classes based on their capabilities and how they will be used.
Class 2 mobility scooters have a top speed of 4 mph and can travel anywhere a pedestrian can walk. They are lightweight, compact and easy to transport. These scooters can be used outdoors on pavements and footpaths, but not on roads unless crossing the street. They tend to be smaller with a tighter turning radius and are ideal for indoor use and smooth outdoor surfaces.
Class 3 Scooters as a Prime Mode of Transportation
Class 3 scooters have a top speed of 8 mph and are usually fitted with lights on the front and back, turn indicators and rearview mirror for added safety. They are often purchased as the prime mode of transportation for someone who is mobility-impaired. These scooters are larger and more powerful than class 2 scooters.
Laws governing mobility scooters vary depending upon where you live. Check with your local government for rules and regulations of where you can legally drive your scooter in your community.
Important Features for Larger Users
All scooters have a weight rating. Full-size, heavy duty, and all-terrain scooters typically have a weight capacity of 400 pounds.
Suspension, wheel size and seat size are important factors to consider. A stronger suspension system and larger wheels will be able to support more weight. A wider seat will not only offer more comfort for the user, but will also distribute the weight more evenly on the scooter, increasing its stability.
Battery Life Considerations
Different size batteries are available depending upon your needs and the distance you plan on traveling. Most scooters use a 12-volt battery. If you're planning to take longer trips, buy a larger and heavier battery that will last longer on a single charge.
Full-size and heavy-duty scooters come equipped with longer life batteries. Keep in mind that battery life will be reduced if climbing hills or when users are at the higher end of the weight capacity.
Accessories for Added Comfort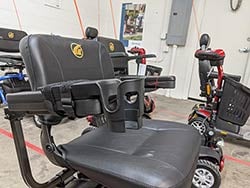 You can personalize your scooter with cupholders, storage compartments or baskets to hold your personal belongings. On some models, you can also add a cane and oxygen tank holder, as well as canopies or an umbrella to protect you from the elements.
Some deluxe models have a built-in USB port for charging your phone or tablet and hidden underseat storage bins. Flags, rearview mirrors and LED lights may be added for extra safety outdoors.
Complete Turnkey Service
Scooters require ongoing maintenance and repair. When deciding where to purchase your scooter, make sure you will have access to local service for the longterm care of your scooter. Mobility Plus offers sales, maintenance, repairs and rentals all under one roof.
Test Drive Before You Buy
While it may seem more convenient to order a scooter online, it can be difficult to evaluate which features you need and determine the quality of the equipment without seeing it in-person and taking it for a test drive.
By talking with a local mobility consultant at Mobility Plus, you can narrow down your choices. In most cases, you will have the opportunity to test drive the scooter to be sure it's comfortable and a good fit for your body and the environment where it will be used.
Find a Scooter that Matches Your Lifestyle
Just like buying a vehicle, take time to evaluate your choices and get in the driver's seat before you make the purchase. Whether you're looking for a portable scooter to take on vacations, a scooter for moving freely around your home, or a larger scooter for cruising around town, Mobility Plus has the expertise to help you choose the ideal model for your environment and lifestyle.