Living in a multi-level home can create access problems for those with limited mobility - whether you're dealing with a chronic illness, injury or age-related impairment. By installing the proper mobility equipment, you can maintain your independence and move freely between different levels of your home such as the second floor, sunken living room, basement, porch, observation deck or boat dock.
Before purchasing any mobility equipment, contact your local Mobility Plus consultant for a free in-home evaluation. Our specialist will recommend the home accessibility solutions that work best based on the size, layout and unique design of your home.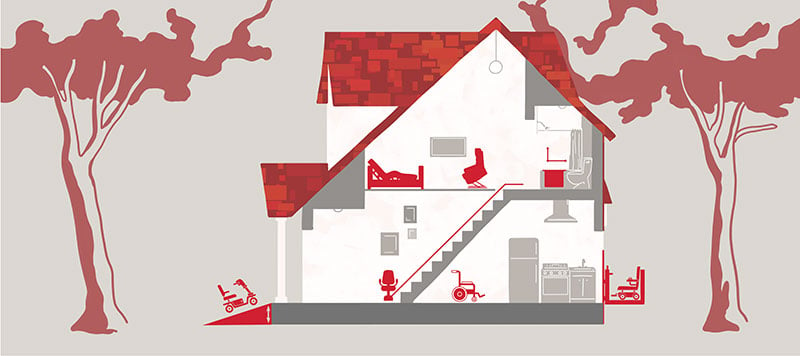 In a multi-level home, three types of mobility solutions are commonly used:
Stair Lifts
Vertical Platform Lifts (VPLs)
Ramps
Let's take a closer look at the features and benefits of each type of mobility equipment, so you can determine which ones are needed in your home.
What is a Stair Lift?
Climbing a staircase can be a major obstacle when you have a mobility impairment. A stair lift is a motorized chair that allows you to travel up and down the staircase from a seated position with the simple push of a button. The chair moves on a rail, which is bolted to the staircase. This is designed for individuals who can sit down and stand up from a seated position without assistance.
Stair lifts are available for both straight and curved staircases and can be used in and outside the home. Curved stair lifts are customized for spiral staircases and are more expensive than stair lifts for straight staircases.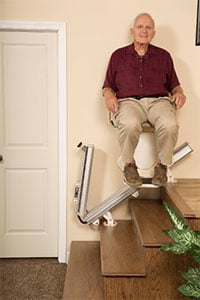 Stair lifts are generally less expensive to install than a vertical platform lift and require less space in the stairwell. That gives family members more room to go up and down the stairs without the stair lift getting in the way.
One of the major downsides of stair lifts is that they are unable to accommodate wheelchairs or scooters. If you need to remain in a wheelchair or regularly use a scooter to move around your home, a vertical lift platform may be a better choice.
Stair Lift Installation Considerations
When doing a home evaluation, our mobility consultant will measure the length and width of your stairs to ensure a stair lift can properly fit on your staircase. An electrical outlet will need to be located near the stair lift or one can be wired close by. Another important factor is the chair weight capacity for the individual using the stair lift.
The sole purpose of the stair lift is to transport users up and down the staircase. If they need additional assistance getting around, a walking device will need to be available on each floor of the home.
What is a Vertical Platform Lift?
Vertical platform lifts, also known as VPLs, help transport individuals to different levels inside and outside their home. A VPL usually consists of a two-sided platform, which attaches to a lift tower and can be enclosed or open. They operate like a home elevator, but without the sliding doors and are less expensive than an elevator.
Vertical lift platforms offer more flexibility than a stair lift and are especially useful for those who are wheelchair-bound or who use scooters, power chairs or walkers.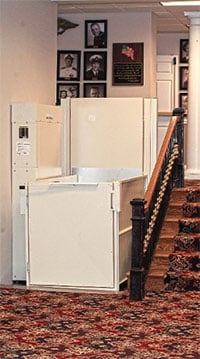 When using a VPL, you won't require assistance to get on or off the platform lift, and you will only need one wheelchair to access all levels of your home. Since you don't need to transfer from one piece of mobility equipment to another, it also reduces the risk of falls and gives caregivers more peace of mind.
VPLs are mainly used outdoors to access porches, decks or boat docks. However, indoor options are also available. For homes with multiple levels, VPLs can be designed to traverse to a third floor, as well as stopping at a second floor.
VPL Installation Considerations
During the in-home evaluation, our mobility consultant will measure the space available in your home. VPLs are typically used for multiple stairs. They require more space than a stair lift, but have a smaller footprint than ramps.
One of the main advantages of a VPL over a stair lift is the flexibility of using any mobility device - including scooters, wheelchairs, power chairs, rollators and walkers - when traveling to different floors of your home.
What is a Ramp?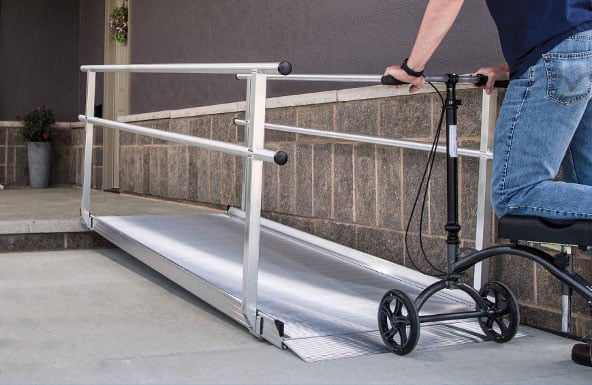 A ramp is an inclined pathway used to navigate between areas of different ground height such as stairs, doorways or curbs. They are designed to accommodate individuals who use walkers, scooters, power chairs and wheelchairs. Like vertical platform lifts, ramps are used primarily outdoors, but indoors options are also available.
Ramps come in a variety of materials, lengths and configurations and also offer easy access for deliveries, handcarts or strollers.
Ramp Installation Considerations
During an in-home evaluation, our mobility consultant will measure the space, as well as heights greater than one foot.
Ramps are a good choice when dealing with a low-rise. Consider the distance and steepness of the ramp, especially for people using a manual wheelchair, rollator or walker. If the rise of the step is too high, a vertical platform lift may be a safer option.
Another important consideration is space. Ramps take up more physical space than lift platforms and may detract from the curb appeal of your home. VPLs tend to offer a more contemporary and sleeker design. Consider Homeowner Association regulations when considering your options.
The Freedom to Stay in Your Home
Your home can be a great source of comfort and security, especially when dealing with the stress and uncertainty of health issues. Stair lifts, vertical platform lifts and ramps can give you the option of remaining in your current home. With properly installed mobility equipment, you can move about your multi-level home with ease and reduce your risk of falls.
Rental Equipment for Short-Term Needs
If you have a temporary living arrangement or are recovering from a short-term illness or injury, you may only need a mobility device for a short period of time. In this case, consider renting instead of purchasing mobility equipment. Contact your local Mobility Plus store for availability of rental equipment in your area.