Now that many COVID restrictions have been lifted, it's time to get out and visit friends and family and explore the rich cultures and sights around the world. When traveling with mobility equipment, preplanning is critical.
Here are a few tips to ensure a smooth, stress-free vacation:
Plan Far Ahead
The first step is deciding which type of transportation you will take — plane, car, bus or train. Call ahead and ask the company what kind of accommodations they offer people with mobility limitations.
If you're planning to bring a wheelchair, walker or other wheeled device, ask if it can be stowed with you on the plane, bus or train.
Find out the specific rules and timetable you must follow for transporting your equipment. You will likely need to arrive earlier than normal to check your mobility device.
Carefully Select Your Accommodations
When booking your hotel, request an ADA-compliant room and ensure that elevators are available to your floor.
If you're taking a cruise, ask for an accessible cabin. Some cruise lines also offer wheelchair lifts for swimming pools and hot tubs.
Book way in advance since many hotels and cruise lines have a very small number of accessible rooms.
Ask about the hotel neighborhood and avoid areas with steep hills and cobblestones. When booking a tour, confirm that the route is handicap-accessible.
If traveling overseas, research your options more carefully. U.S. companies are required by law to follow the American with Disabilities Act (ADA), but accommodations overseas are less predictable and can vary greatly by location.
Prepare for Airport Travel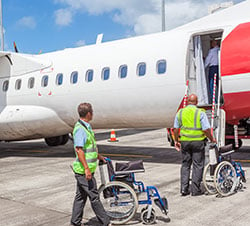 Always check your scooter, power chair, wheelchair or walker at the gate to reduce the risk of damage. When making your reservation, be sure to notify the agent, so it will be noted on the ticket in advance. Otherwise, you will have to go back to the ticket counter or have it added at the gate, which may cause travel delays.
Take direct flights whenever possible. Mobility aids are more likely to be lost or damaged when they are loaded and unloaded multiple times.
If you need a wheelchair at the airport, reserve one in advance. You can also request one when you arrive at the airport, but you may have to wait a little longer.
Contact your airline ahead of travel to ask if your scooter battery will be allowed on the flight. Airline rules differ depending on the carrier.
Choose an aisle seat close to the bathroom, so you will have more space to maneuver and a shorter distance to travel when making your way to the restroom.
Rent Equipment When You Arrive
Instead of hauling your mobility scooter or power chair with you, consider renting one when you arrive at your destination. This will reduce stress, as well as travel time, and eliminate the risk of it being damaged in transit.
Mobility Plus offers rental equipment at many of its locations throughout the U.S. Call ahead to reserve your mobility device and ask our mobility specialists for help in selecting the proper equipment for your location.
Know the terrain you will be traveling on. If you plan to spend time at a sandy beach, reserve a beach wheelchair at your destination. If you plan on venturing on unpaved trails or in cobblestoned cities, choose a rollator or wheelchair equipped with off-road tires that are built for rugged or uneven terrain.
Take a Road Trip
If you're driving, consider the amount of space inside and on the vehicle for the mobility equipment, in addition to your luggage.
Consider using a more portable, lightweight device, which is designed for travel and takes up less cargo space.
Installing an autolift for your vehicle can make it easier to load and unload your scooter or power chair. Mobility Plus offers a number of scooter lift designs to accommodate a wide range of vehicles. Contact a Mobility Plus expert to find one that works best for you.
Expect the Unexpected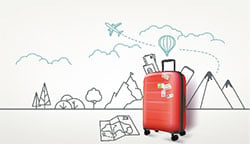 If transporting your own equipment, always bring your charger and a backup battery. Also consider buying a backup charger, so you will be prepared in all situations.
For greater peace of mind, rent a mobility device from one of our local stores. We can even have it conveniently delivered to your hotel.
Don't let a mobility impairment deprive you of the joy of seeing loved ones and exploring the world. Mishaps and delays may happen, but with advance planning, you can travel safely and comfortably and create a lifetime of memories with your family and friends.